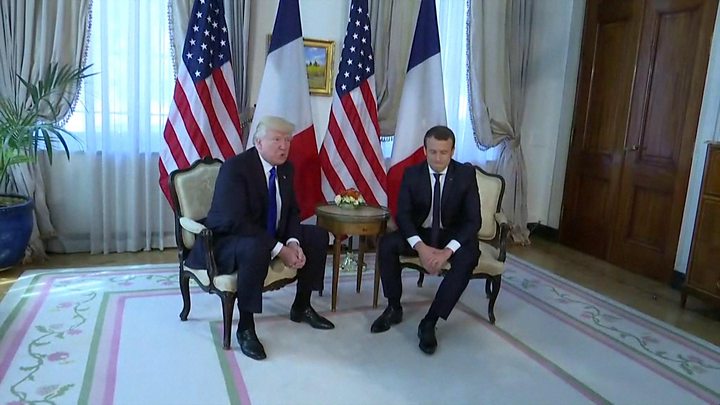 US President Donald Trump has told a Nato meeting in Brussels terrorism must be "stopped in its tracks".
He called for a moment of silence in memory of the 22 adults and children killed in the Manchester bombing, which he described as a "savage attack".
He urged all Nato members to pay their fair share of defence costs, saying "massive amounts of money" were owed.
The alliance agreed to his request to join the US-led coalition against so-called Islamic State.
Mr Trump also warned about the risk posed by uncontrolled immigration and the threat posed by Russia.
Mr Trump has met several EU leaders for the first time, including France's new President, Emmanuel Macron.
The atmosphere between the US conservative and the French centrist appeared strained when they met at the US embassy in Brussels.
The two leaders clasped each other's hands, leaning in towards each other slightly. Mr Trump started to pull away, but Mr Macron held on tighter and refused to let him go, the BBC's Tara McKelvey reports.
Nato and Trump: What future for the Atlantic alliance?
European angst over Trump visit
Will Nato be doing more to defeat IS?
The Nato gathering will see the alliance agree to a US plan for Nato to take a bigger role in the fight against Islamist militants, particularly IS, but France and Germany insist the move is mostly symbolic.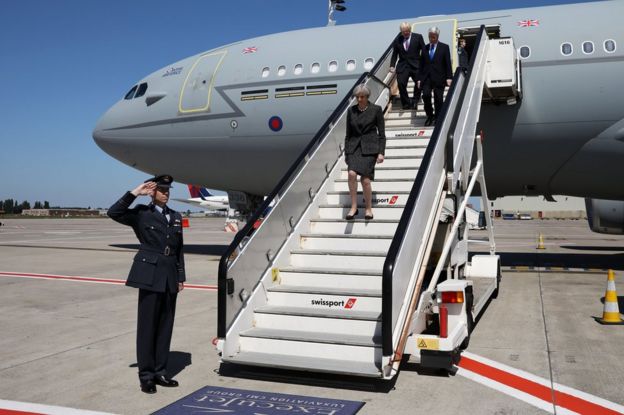 Nato Secretary General Jens Stoltenberg said Nato states would contribute more in terms of information sharing and air-to-air refuelling.
"This will send a strong political message of Nato's commitment to the fight against terrorism and also improve our co-ordination within the coalition – but it does not mean that Nato will engage in combat operations," he said.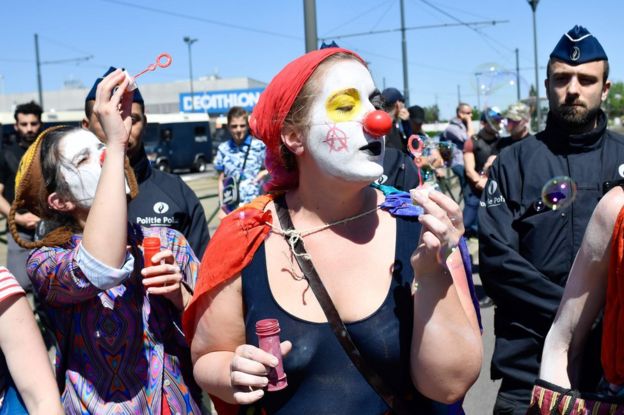 There are concerns that Nato joining the anti-IS coalition could lead to the alliance becoming embroiled in post-conflict Iraq or Libya as it did in Afghanistan, says the BBC's Jonathan Marcus.
What future for the Atlantic alliance?
European angst over Trump visit
Do they agree about Russia?
After meeting Mr Trump earlier on Thursday, European Council President Donald Tusk said they had agreed on "many areas" but had differences over Russia.
"I'm not 100% sure we can say that we have a common position, a common opinion on Russia, although when it comes to the conflict on Ukraine we were on the same line," he said.
Mr Trump has been criticised for his admiration of Russian President Vladimir Putin and his administration is embroiled in allegations of close ties with Russian interests.
Mr Tusk stressed the "fundamental Western values like freedom, human rights, respect for human dignity" at the heart of relations with the US.
---
Minor diplomatic masterpiece: analysis by BBC Europe correspondent Kevin Connolly
Donald Trump's timetable in Brussels is a minor diplomatic masterpiece of its kind, maximising as it does the number of meetings and minimising the amount of public speaking and press scrutiny which will follow them.
In the morning he met leaders of the EU, among them European Commission President Jean-Claude Juncker, who once complained that two years would be wasted educating the new president about a world he does not know.
In the afternoon he is at the headquarters of Nato, an organisation he once described as "obsolete" and whose European members he's criticised for not spending enough on their own defence.
It was not difficult, though, to construct an agenda for those meetings which focuses on very broad areas of agreement – like the importance of the fight against terrorism – and if the day proceeds without diplomatic incident, Europe's leaders will at least be able to reflect on face-to-face meetings with the world's most talked about political personality.
---
Did climate change come up?
"Some issues remain open, like climate and trade," Mr Tusk said after he and European Commission President Jean-Claude Juncker met Mr Trump.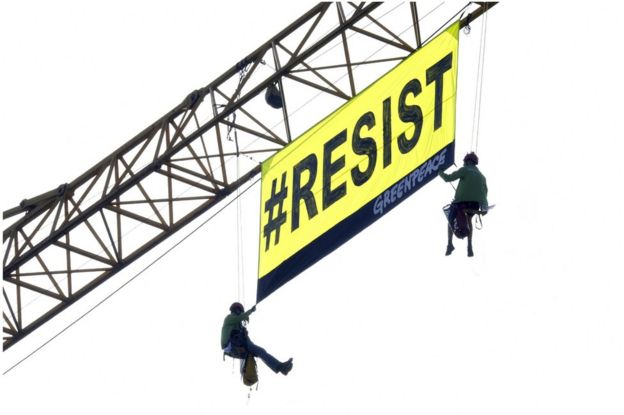 EU leaders are concerned that Mr Trump may abandon a US commitment to reduce greenhouse gases under the UN Paris accord.
President Macron said after his meeting with Mr Trump: "As for climate, well, President Trump can assert his position. I respect the fact he has reviewed the Paris agreement. I reiterated the importance of the agreement."
Are there signs of any movement on trade?
Mr Juncker said that at his meeting with Mr Trump, both sides had emphasised "that we should have free but fair competition".
"We've agreed to bring together Europeans and Americans," he said.
"There's going to be a Commission delegation and a Trump delegation in the next few weeks to come together on trade matters because we felt there was too much divergence, too much divergence in our analysis and our measures."
Where else has Trump's first foreign trip as president taken him?
He arrived in Brussels on Wednesday from Rome where he met Pope Francis at the Vatican.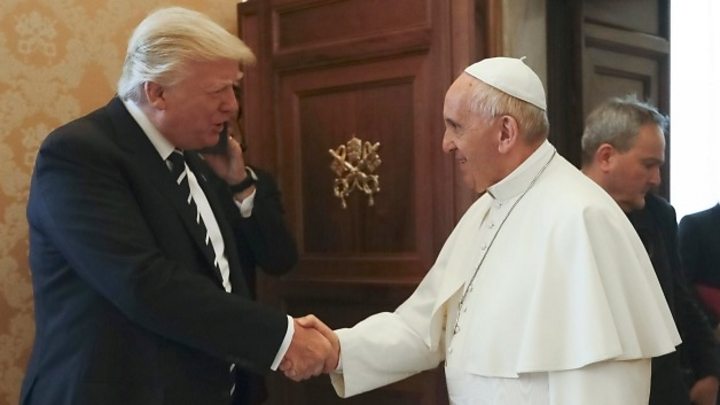 Before that, he had been to Israel and the Palestinian territories, where he vowed to try to achieve peace in the region, and to Saudi Arabia, where he urged Muslim countries to take the lead in combating radicalisation.
Mr Trump will end his tour on the Italian island of Sicily at the G7 summit on Friday.