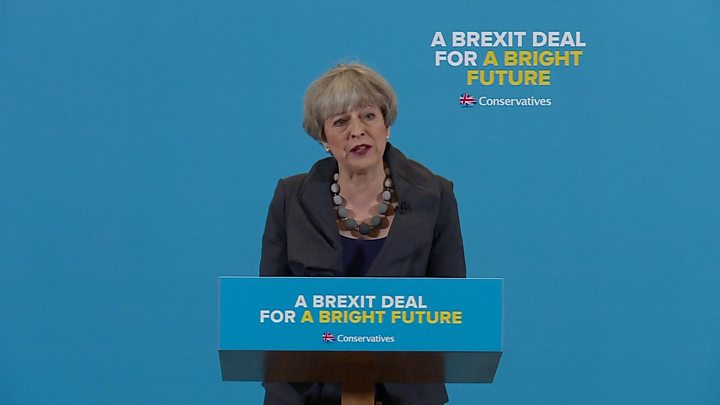 Theresa May has called on voters from both sides of the EU debate to back her in next week's general election to "fulfil the promise of Brexit".
In a bid to focus on Brexit after being criticised for avoiding a TV debate, she said it could bring "enormous" opportunities.
She said Labour's Jeremy Corbyn was "not up to the job" of managing it.
But Mr Corbyn accused the Tories of creating a "toxic climate" in EU talks, using "hectoring and threats".
And the Lib Dems said the PM's "hard Brexit" approach would harm the economy.
BBC Election Live: Rolling campaign updates
Where do UK parties stand on Brexit?
Pollsters defend BBC election audience
Mrs May used a high-profile speech to set out her vision of European Union withdrwal as part of a "great national mission" to build a "stronger, fairer and more prosperous Britain".
With just a week to go to the election, the prime minister said this future could only be delivered if voters backed the Conservatives when they went to the polls on 8 June.
In a speech in Teesside, she said: "If they do, I am confident that we can fulfil the promise of Brexit together and build a Britain that is stronger, fairer and even more prosperous than it is today."
Manifesto guide 2017: Brexit
This issue includes the impact of the UK's decision to leave the EU, Brexit negotiations and future relations with Europe.