A preview for issue 157 of The Walking Dead comic book titled 'The Whisperer War Part 1 'was released, and it appears as though things will get crazy soon.
If you're all caught up on the events of The Walking Dead, it's pretty obvious that there is war on the horizon. With tension elevated to insane levels between the whisperers and the other communities, there will be death and destruction soon.
Still, there is a lot left to ponder. Based on the events of issue 156, there are many different ways events could boil down over the course of the war, and each different scenario could yield very different results and later the future of the comic series forever.
Issue 157 of The Walking Dead won't be released until August 3rd, 2016, but once again the comic series, as well as artist Charlie Adlard, have shared a sneak peek . This tease should make fans even more excited about the next installment, titled"The Whisperer War Part 1 of 6".
Here is the preview panel as shared by The Walking Dead comic book artist Charlie Adlard on Twitter
: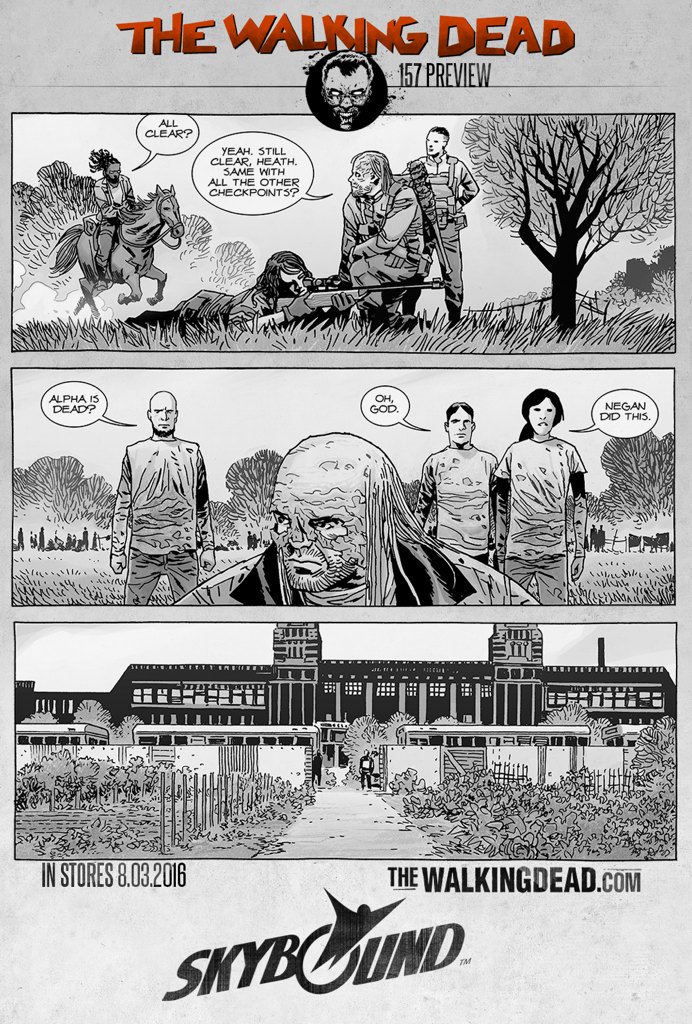 The first panel in the preview is fairly straightforward. Dwight is worried that The Whisperers have followed their group out of enemy territory. Following what happened in the previous issue, Dwight is right to have everyone in the community on high alert.
Next, it appears as though Beta has discovered the body of Alpha. The Whisperers in the background discuss how this could only be Negan who did the dirty deed. Based on the focused look on Beta's face, he's not very pleased with this situation one bit.
The last panel is the most open to interpretation. The Sanctuary has its doors open wide and there are some figures too far in the distance to discern. But who is it at the gates and why are they there?
Hopefully, all these questions and more will be answered when The Walking Dead issue 157: The Whisperer War Part 1 is released on August 3rd, 2016. Be sure to watch for it wherever comic books are sold or pick up a digital copy for instant gratification through Comixology.