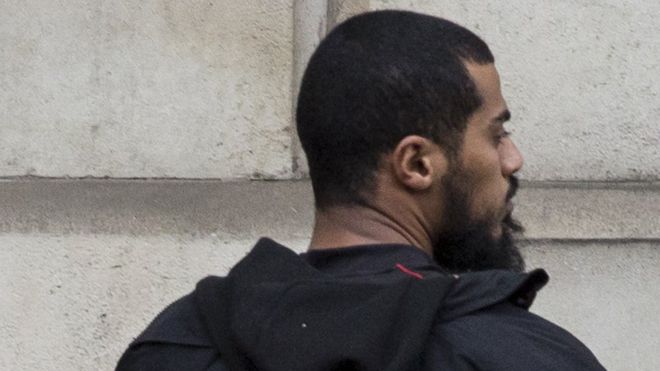 The suspect after being arrested
A man who was carrying knives near the Houses of Parliament has been arrested on suspicion of terrorism offences.
The man, in his late 20s, was arrested at 14:22 BST by armed police as part of an intelligence-led operation on Parliament Street.
A witness described seeing two knives on the ground, one of which he described as a large bread knife.
The Metropolitan Police said there were no injuries. The suspect is in custody in a south London police station.
The police statement added: "The man was arrested on suspicion of possession of an offensive weapon and on suspicion of the commission, preparation and instigation of acts of terrorism. Knives have been recovered from him.
"Detectives from the Counter Terrorism Command are continuing their investigation, and as a result of this arrest there is no immediate known threat."
Witnesses said police wrestled the suspect to the ground on a traffic island near Parliament Square.
A French tourist who saw the arrest said the suspect looked "very calm". Another witness said the man was not shouting, or acting aggressively.
The BBC's home affairs correspondent June Kelly said: "It's understood that the man was detained as part of an ongoing operation by Scotland Yard's counter-terrorism command.
"Officers working on intelligence moved in on him in Whitehall. He was then searched and arrested. There are no details yet of his nationality or background."
The incident happened just yards from Downing Street, although Prime Minister Theresa May spent the day campaigning in Derbyshire.
A No 10 spokeswoman said: "This is an ongoing police operation and we are monitoring it.
"The Prime Minister has been informed by officials and she will be updated, as usual for incidents like this."
Security remains tight outside Whitehall buildings following the terror attack on 22 March, in which PC Keith Palmer was stabbed to death at the entrance of Parliament.
Khalid Masood killed four people when he drove along Westminster Bridge, before getting out and attacking the officer. Masood was then shot dead by armed police.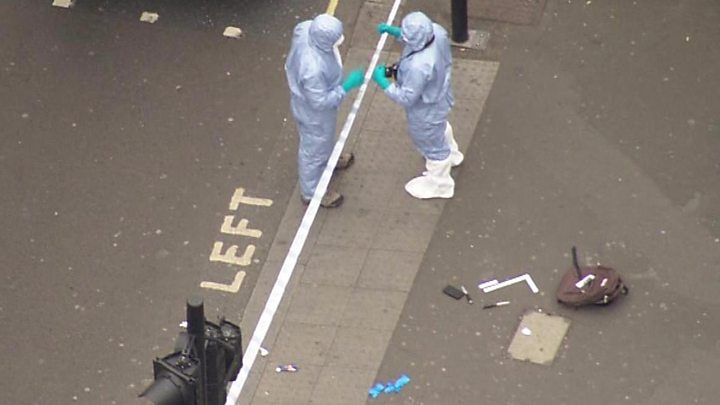 A bag and what appear to be a number of knives can be seen lying on the ground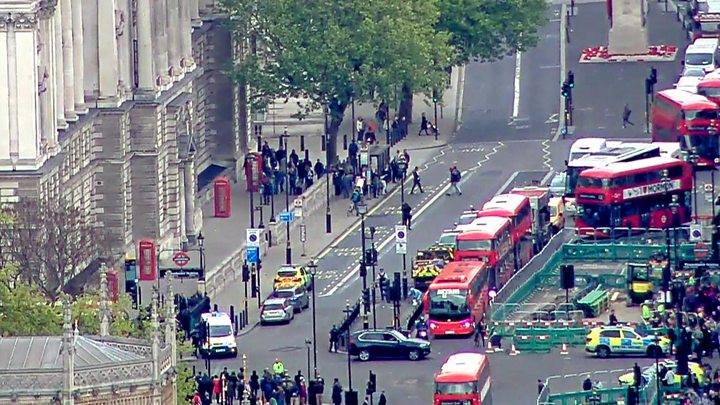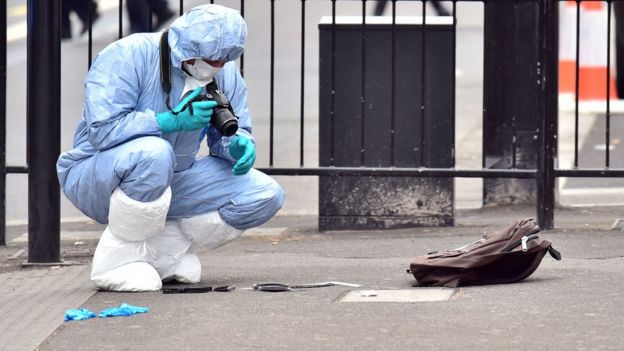 A police photographer at the scene