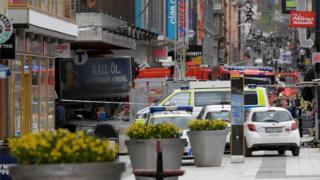 The lorry crashed into the Ahlens department store in the city's centre
A lorry has smashed into a store in central Stockholm, killing at least three people, Swedish police say.
Several people were also injured in the incident on Drottninggatan (Queen Street), one of the city's major pedestrian streets.
Swedish Prime Minister Stefan Lofven said the country has been attacked and everything indicated that this was an act of terrorism.
One person has been arrested, he added, but gave no details.
The crash happened at the Ahlens department store just before 15:00 local time (13:00 GMT).