Taking inspiration from history, groups gather in Seattle, Minneapolis, San Francisco and beyond to plan opposition and create an outlet for their concerns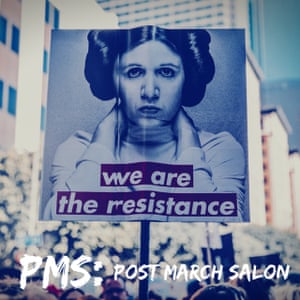 In the suburbs of Minneapolis–St Paul, friends gather around a backyard campfire to discuss how to turn their Donald Trump anger into action.
In San Francisco, California, an all-female crew eats Middle Eastern food and reads the constitution.
In Decatur, Georgia, a silver bell gets rung if anyone in the group of mainly suburban moms starts speaking off-topic during their monthly get-togethers.
Political "salons" are popping up in living rooms, bars and backyards in response to the 2016 election of Donald Trump. Some have wine; some have a set agenda; all are scheming how to fight against this presidency.
Salons first gained fame in France during the Enlightenment, with citizens gathering to engage in political conversations and arguments; they acted as a place to plan revolution and discuss philosophy. The concept has continued ever since, with the author Gertrude Stein and the former secretary of state Madeleine Albright both known to have hosted them.
"I used the term salon to evoke old gatherings of artists and intellectuals in a hostess's home," said Mary Huber, founder of the Progressive Salon of Decatur. "Yep, Paris in the 1920s, recreated here in Decatur, Georgia," she quipped.
The 2017 salon is more often marked by groups of friends and neighbors organizing specific political actions, from raising money to educating each other about the refugee ban, while hanging out and making new friendships.
"I used to meet friends at the gym; now I meet them in brainstorming sessions," said Huber.
At 7pm on a Sunday night once a month, a crowd of about 20 people pile into the semi-retired attorney's lounge room, with the dining chairs set up around the couches in a semi-circle.
"We are not here to sit around around and complain," explained Huber. The group is a mixture of people from the middle-class neighborhood of Chelsea Heights, including folk musicians, stay-at-home moms, lawyers and a former nun.
They are focused on three key topics: the repeal of the Affordable Care Act (ACA), the April special election for the sixth congressional district in Georgia (vacant after Tom Price became head of health and human Services in the Trump administration), and the 2018 midterm elections (the governor of Georgia is up for re-election).
At their last meeting, a woman gave a presentation on refugee work in the area. Another presented on training she'd received about the ACA, popularly known as Obamacare. Two members had attended town hall meetings and met with local senators' staffers.
Their official group mascot is the mosquito. "We need to be like mosquitoes, and literally bug the hell out of them," said Huber.
It's enormous fun, says Huber, although it's not a party. "I am not letting people sit around and get buzzed – they will not get anything done," she said.
"Maybe I should add snacks," she laughed.
The 'Fire Pit Method'
In a forested backyard in the Minneapolis–St Paul suburbs, folks gather around a literal campfire to chat about their election concerns.
"Getting around a fire pit like humans have done for thousands of years, we're able to have a discussion about politics in a way that is civil, personal, and such a relief," said Brad Canham, creator of the Fire Pit Salon.
Canham started the Fire Pit Salons in early 2016, after the election came up during a local dinner party and the host quickly changed the topic because she feared it was too divisive. So Canham started inviting friends around specifically to discuss what was going on.
"It's kind of a variation on the normal 'parents with kids getting together'," said Canham. "Bring over some food and a bottle of wine … and we go out and we talk about politics."