US President Donald Trump has said leaks of the investigation into the Manchester Arena attack to the US media are "deeply troubling".
They were a "grave threat to our national security", he added, and he would get to the bottom of it.
His remarks come after US media published photos from the scene of Monday night's explosion.
Salman Abedi blew himself up after a Ariana Grande concert, killing 22 adults and children and injuring 116.
Mr Trump, who is at a Nato summit in Brussels along with UK Prime Minister Theresa May, said: "These leaks have been going on for a long time."
He pledged to ask the US Department of Justice to launch a review, and "if appropriate, the culprit should be prosecuted".
"There is no relationship we cherish more than the special relationship between the US and the UK," he added.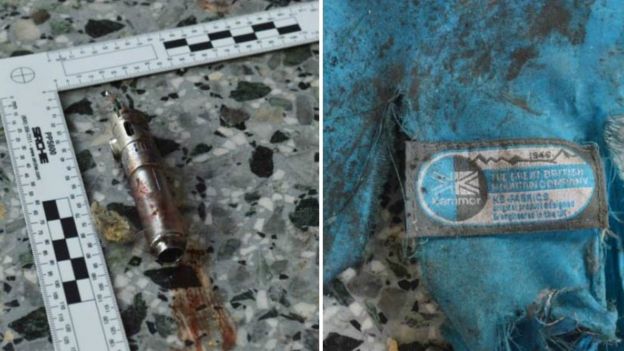 In a speech at the summit, Mr Trump said the attack in Manchester demonstrated the "depths of the evil we face with terrorism".
"Innocent little girls and so many others were horribly murdered and badly injured whilst attending a concert," he said.
"Beautiful lives with so much great potential, torn from their families for ever and ever. It was a barbaric and vicious attack upon our civilisation.
"All people who cherish life must unite in finding, exposing and removing these killers and extremists, and yes, losers, they are losers.
"Wherever they exist in our societies we must drive them out and never, ever let them back in."
Live: The latest from the investigation
The victims of the Manchester attack
What we know so far
What Libya tells us about Manchester bomber
Trump calls to stop terrorism 'in its tracks'
Who was the suspect Salman Abedi?
Earlier, the top US diplomat in the UK, Lewis Lukens, condemned the leaks as "reprehensible" and told the BBC action would be taken to identify those responsible.
It comes as police described the eight arrests made since the bombing as "significant", and items seized in raids as "very important".
Abedi detonated his "nuts-and-bolts" bomb at the end of the gig as children, teenagers and others were making their way out of the auditorium.
Others, including parents, were waiting in the foyer to pick up family and friends.
---
Why are the UK authorities so angry?
On Wednesday, the New York Times outraged British police and government officials when it published photos appearing to show debris from the attack.
They included bloodstained fragments from the bomb and the backpack used to conceal it.
Greater Manchester Police were said to be "furious" and said they would stop sharing information with the US.
Its chief constable Ian Hopkins said the leak undermined the investigation and had distressed families "already suffering terribly with their loss".
The New York Times newspaper has defended its decision to publish the pictures, saying they were "neither graphic nor disrespectful of victims".
Prime Minister Theresa May has said she will make clear to US President Donald Trump that shared intelligence must remain secure when she meets him at the NATO summit.
UK officials believe that US law enforcement rather than the White House is the likely culprit for the leaks, BBC security correspondent Gordon Corera says.
---
Analysis
By Dominic Casciani, BBC home affairs correspondent
The police decision to stop sharing information specifically about the Manchester attack with their security counterparts in the US is a hugely significant move and shows how angry British authorities are.
The information from the crime scene wasn't shared on a whim: the British and Americans have a lot of shared world-leading expertise in improvised explosive devices and scientists would be discussing whether the Manchester device tells them something new that could, ultimately, track down a bomb-maker.
Other sharing will continue. The UK and US share a vast amount of information about terror and espionage threats – its a tight-knit network that also encompasses Canada, Australia and New Zealand.
That system is based on trust and the "control principle": if a piece of intelligence is shared, the receiving nation has no right to further disseminate it without permission.
---
What's been happening in Manchester?
Meanwhile, the Queen has been to the Royal Manchester Children's Hospital to meet some of the injured, and members of the emergency services.
During her visit, she paid tribute to Manchester and the "extraordinary" way the city had responded to the attack.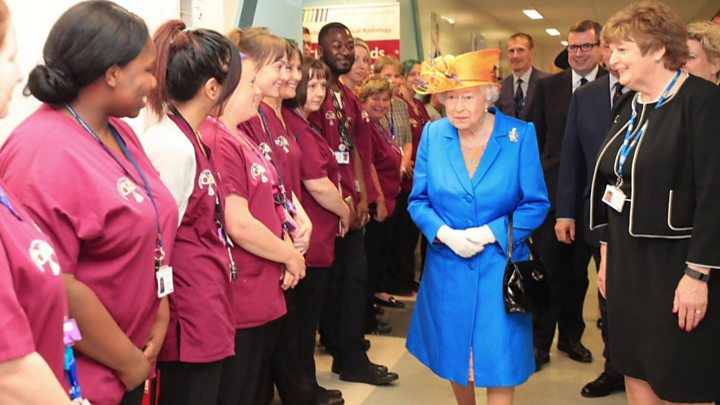 Earlier, a minute's silence fell over offices, public squares, shops and in homes as people honoured the victims.
In Manchester's St Ann's Square, a perfectly-observed silence was followed by applause, cheers and a spontaneous crowd rendition of the Oasis song Don't Look Back in Anger.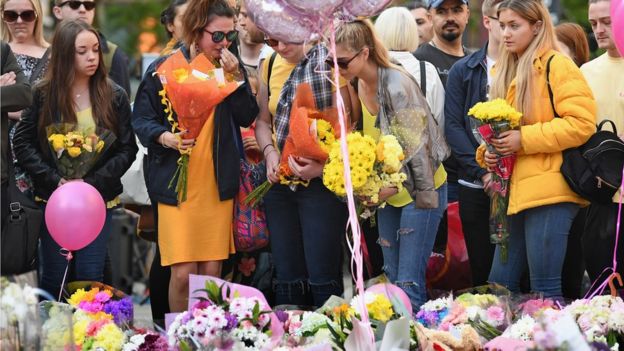 In other developments:
Armed officers are to patrol trains nationwide for the first time
A possible suspicious package was declared safe after army bomb disposal experts were called to a street in Hulme, near Manchester city centre
UKIP's Suzanne Evans said Theresa May had to take "some responsibility" for the Manchester bombing
Manchester City and Manchester United have jointly pledged £1m to an emergency fund set up to support the victims
---
What's happening with the investigation?
Police believe Manchester-born suicide bomber Salman Abedi, from a family of Libyan origin, acted as part of a network.
Whitehall sources say 22-year-old Abedi was among a "large pool of people whose risk was kept under review" by security services.
The bomber's older brother Ismail, 23, is among the eight men arrested. A woman was also arrested but has since been released.
Raids involving controlled explosions have been carried out at flats in the city centre and at an address in the Moss Side area of Manchester.
In the Libyan capital Tripoli, Abedi's younger brother Hashem, 20, and their father, Ramadan, were held by special forces linked to the interior ministry.
---
Who are the victims?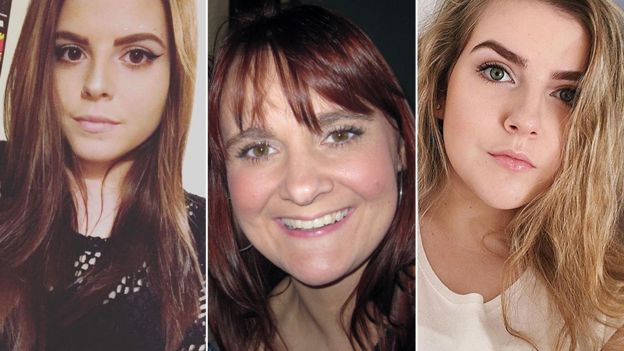 The latest victims to be named are Wendy Fawell, 50, from Otley, west Yorkshire and Eilidh MacLeod, a 14-year-old from Barra in the Outer Hebrides, and 19-year-old Courtney Boyle.
The youngest known victim so far is eight-year-old Saffie Roussos.
An off-duty Cheshire police officer Elaine McIver was also among the dead. Colleagues lay flowers in her memory, and tweeted: "We will not let evil win".
Of the 116 injured, 75 remain in hospital. Of those 23 are in critical care, five of them children.
Who are the other victims?