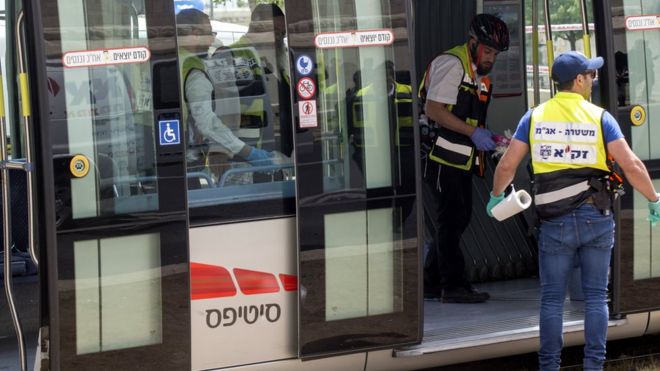 Officials inspect the scene of the attack near the Old City
A 23-year-old British woman has been stabbed to death in Jerusalem, police have said.
The tourist was repeatedly stabbed while she travelled on a tram in Tzahal Square, which was packed with people celebrating Good Friday and Passover.
She was taken to hospital but died from her injuries soon afterwards.
Israel's Shin Bet domestic security service have identified 57-year-old Palestinian Gamil Tamimi as her attacker. He was arrested at the scene.
Police say Mr Tamimi, a resident of Ras al-Amud in east Jerusalem, was recently released from a psychiatric hospital.
'Filled with sadness'
A 30-year-old pregnant woman and a 50-year-old man were also injured in the attack.
BBC Middle East correspondent Tom Bateman said the pair, who were much less seriously injured than the British woman, were either hurt when the tram came to a sudden stop or in the panic to get away.
A Foreign Office spokeswoman said: "We are in touch with local authorities following an incident in Jerusalem on April 14."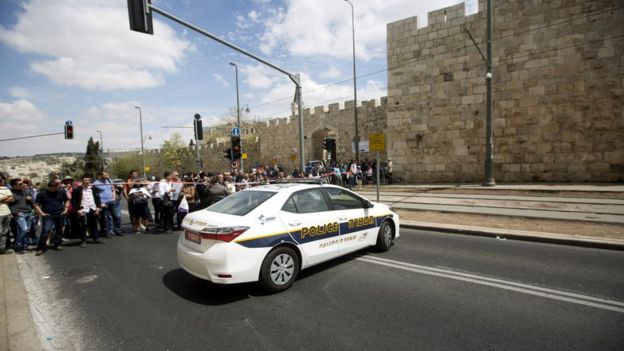 Police cordoned off the road leading to scene of the attack near the Old City
There will continue to be heightened security in Jerusalem after measures were brought in ahead of the Jewish Passover Festival and Easter celebrations.
Israel's President Reuven Rivlin said he was "filled with sadness about the attack" and his thoughts and prayers are with the family of the victim.
Israeli police spokesman Micky Rosenfeld has confirmed the Briton was a 23-year-old and tweeted a picture of the knife used in the attack.