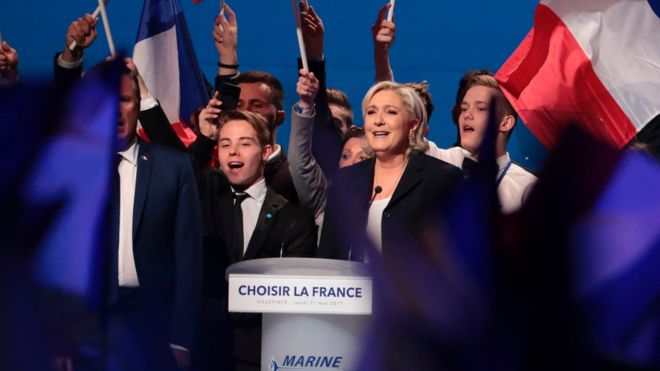 Marine Le Pen is presenting herself as the candidate of change
Far-right French presidential candidate Marine Le Pen has accused her pro-EU centrist rival Emmanuel Macron of being the "candidate of continuity".
She linked Mr Macron to the unpopular current President, François Hollande, in whose cabinet he once served.
Ms Le Pen trails Mr Macron in the polls by about 20 percentage points ahead of Sunday's second round of voting.
Mr Macron, who will hold a rally later, earlier told the BBC the EU must reform or face the prospect of "Frexit".
Meanwhile, clashes have broken out between police and protesters on the sidelines of a traditional May Day labour march in Paris.
Two officers were hurt when masked demonstrators threw petrol bombs at police who responded with tear gas, authorities said.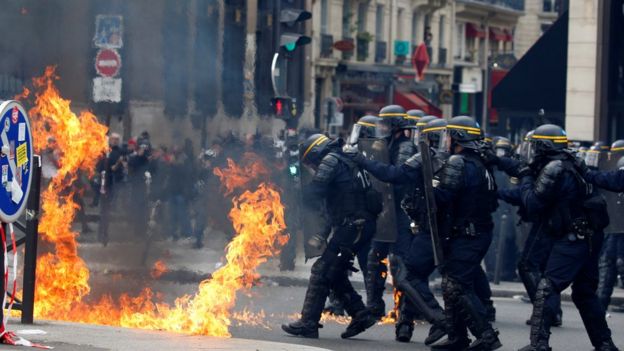 Riot police clashed with protesters in Paris
Although five big trade unions have urged their members not to vote for National Front (FN) leader Ms Le Pen, only two have expressed their support for Mr Macron.
Earlier, Ms Le Pen's estranged 88-year-old father and the founder of the FN was at a rally by the statue of Joan of Arc, a long-time symbol of patriotism for the FN.
This is where Jean-Marie Le Pen traditionally held his May Day rallies but this year's event was attended by only a couple of hundred of the party's old guard, the BBC's Paris correspondent Hugh Schofield reports.