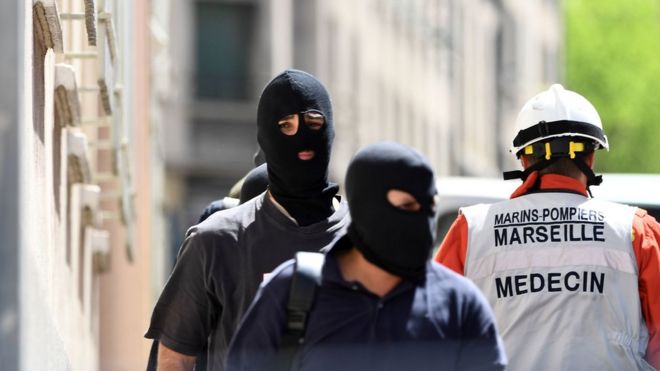 Five days before France's presidential election, two men have been arrested in Marseille on suspicion of planning an imminent attack.
The suspects, aged 23 and 29, were detained by elite police and domestic intelligence agents after a search that had lasted several days.
Both men were said to have been radicalised in prison.
France remains under a state of emergency after a series of attacks that have claimed some 230 lives.
A flat in Marseille's central third district was being searched amid reports that guns and material used for making explosives had been found.
Interior Minister Matthias Fekl did not say what the suspects' target was but described the men as French.
"They had the aim of committing in the very short term, in other words in the very next days, an attack on French soil," he said.
The DGSI domestic intelligence service is said to suspect the pair of plotting an attack to coincide with the election.
Eleven candidates will fight the first round on 23 April, with the top two qualifying for the run-off on 7 May.