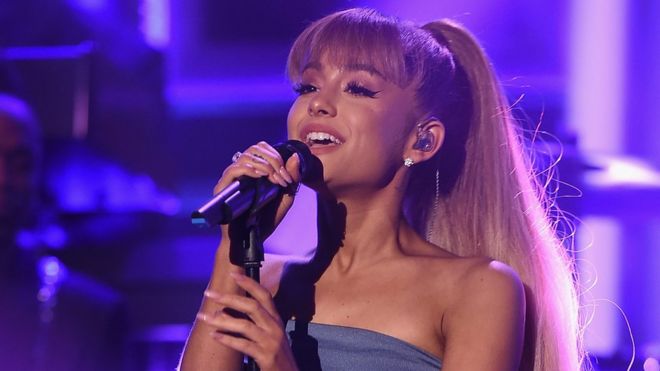 The singer has two dates scheduled in London on Thursday and Friday
There is still no decision on whether or not Ariana Grande's scheduled live shows will go ahead, the O2 has said.
The singer has returned to the US after 22 people died and 64 were injured in an attack at a concert she played in Manchester on Monday.
She had further live dates booked across Europe in the coming weeks, including two at the London venue on Thursday and Friday.
"As yet the tour is not officially postponed or cancelled," the O2 said.
'Difficult time'
"We understand and appreciate you are waiting for information as to whether the shows are going ahead on Thursday and Friday," the statement, issued on Wednesday morning, continued.
"We are still in contact with the tour promoters regarding a final decision. As yet the tour is not officially postponed or cancelled, despite media reports."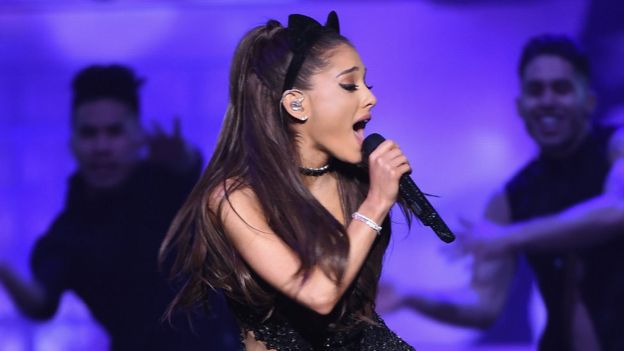 It added: "We promise that as soon as we have clear information we'll let everyone know. Thank you again for bearing with us in what is a difficult time for all involved."
Replying to the statement on Twitter, one fan said: "This is ridiculous and unacceptable. The uncertainty is only causing greater distress to distraught young fans."
Many said it appeared unlikely the show would go ahead, with another fan writing: "She's back at home in Boca [Florida]. It's clear she's not performing tomorrow… stop dragging it out."
But several defended the O2. One replied: "Lets hope the show goes ahead. It might be under a cloud but strength, defiance and not letting the terrorists get to us should win through."
Manchester music fans try to carry on
Ariana Grande: The diva with a heart
Take That postpone concerts 'out of respect'
Ariana Grande says she feels 'broken'